RAVIOLI ME AWAY

" Ladies called Ravioli Me Away. It's my heart aching. It's the sound of. .. They remind me of so much I love about the world: I could reel off lists of names like protective dressage, all bondage armour but I am just a cipher, a vaccuum at the other end of a meaningless conversation. I mean, you want descriptors? Why would you want descriptors? Their sound describes their own sound so much more obliquely than I ever could." - Everett True

Performing at Wysing Arts Centre Music Festival, 2015

RAVIOLI ME AWAY – BIO
Un-defined by genre, Ravioli Me Away's high energy, dangerously ambitious and delusional jazzy-post-pop-punk-hip-funk sound with stylistically erratic motifs span all-known past, present and future human cultures and sub-cultures. This is social realism soaked through with a heady dose of fantasy, idiosyncratic poetics, keyboard flurries and vocal vicissitudes described as "vintage drag-queen Bananarama Youtube footage played with twice the sass and in double time with an incredulous broadband connection reflected in the eyes of a much overworked and downright exhausted Julie Burchill on acid".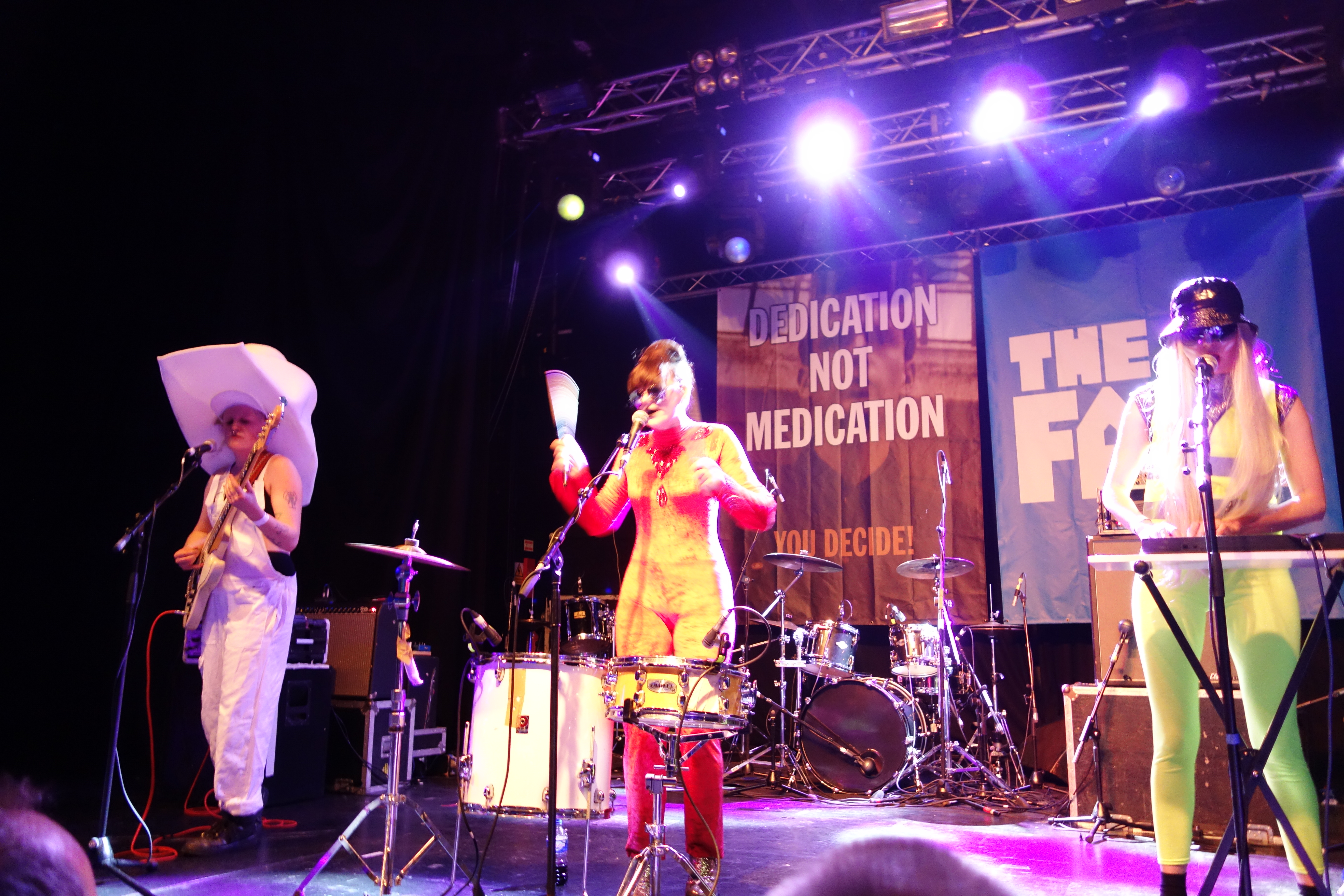 Supporting The Fall Brixton Electric April 2015
Ravioli Me Away are Sian Dorrer, Rosie Ridgway and Alice Theobald.

Since forming in January 2013, they have performed extensively at various events, venues, festivals and galleries in the UK, France, Switzerland, Germany, Czech Republic and Holland. They have also recorded and released records and appeared on radio shows on 6 Music, WFMU, Resonance FM and NTS Radio.

Theobald, Dorrer and Ridgway have each been involved in the UK DIY post-punk and electronic music scenes for over a decade and formed through a mutual absurdist humour and approach to exploring identity, politics, human relationships, love, gender, class and current affairs. Using performance, art and music, their lyrics and stage presence are loaded with pop references, metaphor, satire and cliché. To date they have together written and produced up to 30 songs and have performed over 80 concerts, each high-energy and curated to reflect a different theme inspired by everyday life eg, City workers, beauty queens, sportsmen and beatnik poets to more abstract interpretations of everyday life such as luggage, snacks and e-bay. More recent performances have been iterations of their own individual alter-ego/characters.

***Ravioli Me Away see and explore symptoms of society. We see ourselves as agents that point out phenomenon and respond to it. We try to sift though it and respond to the surface by
challenging audiences perceptions and expectations.***
PERFORMANCE HISTORY AND DISCOGRAPHY.
Live performances have included shows at and affiliated with galleries including: Wysing Arts Centre, Cambridge; Arnolfini, Bristol; S1 Gallery, Sheffield; Pilar Corrias, London; Fuse Arts Space, Bradford; Lima Zulu, London; Reunion gallery, Zurich; PLATO, Ostrava City Art Gallery, Ostrava. Played at DIY Spaces that support performance and music including: Power Lunches, London; GoodJob, London; Open School East, London; DIY Space For London.
Festivals including Supernormal, Oxfordshire; Supersonic, Birmingham; Wysing Music Festival, Cambridge; Theadfest, Bradford; Ecoutes au vert, Geneva. Commercial music venues such as The Lexington, The Victoria, The Macbeth as well as supporting legendary post-punk band The Fall at Electric Brixton. RMA have also played various charity events including The Beautiful Octopus Club (Heart n Soul) at The South Bank Centre, London and FGM Awareness fundraiser event hosted at The Ritzy Picture House Cinema and have toured the UK three times and across Europe twice.
In 2014 Ravioli Me Away released their first 12" LP
'The Inevitable Album'
on Good Job Records, had a split 180 gram vinyl record released by independent label Upset The Rhythm, and a Limited Edition tape of live recorded material produced by Ben Wallers of The Country Teasers/The Rebel released on Neen Records. Ravioli Me Away have also appeared on various compilations by independent labels including a 12" record by Brighton based label Riots Not Diets.
In September 2016, RMA released their second album,
'Living is a Myth'
with Upset The Rhythm.
Ravioli Me Away recently toured their first Opera
View From Behind The Futuristic Rose Trellis
which launched in Feburary 2019. A full film iteration of the Opera is coming soon.
SELECTED PRESS.

Niki Russell, "Ravioli Me Away; The View From Behind The Futuristic Rose Trellis", review, Art Monthly March Issue 424
Ravioli Me Away, Garden of Earthly Delights, feature by Tessa Norton, The Wire, Issue 421 - March 2019
Ellen Marra De Watcha, "Block Universe and the Meaning of Post-dance", Frieze online, June 2019
https://frieze.com/article/block-universe-and-meaning-post-dance
Robert Barry, "Is Stockhausen's Licht The Most Operatic Spectacle Ever?", The Quietus, May 14th 2019
https://thequietus.com/articles/26445-karlheinz-stockhausen-licht-opera

Below The Radar, The Wire Online
https://www.thewire.co.uk/audio/btr/below-the-radar-25/7

Collapse Board, The return of Everett True| 154. Ravioli Me Away, by Everett True, June 3, 2015
http://www.collapseboard.com/song-of-the-day-2/the-return-of-everett-true-154-ravioli-me-away/
Supersonic Festival, Birmingham 2015, Friday Night Live Review, Adrian Bloxham, June 2015
http://louderthanwar.com/supersonic-festival-2015-birmingham-friday-night-live-review/
Louder Than War, RMA/The Fall/ Ye Nuns, Gig review, Sept 2014
http://louderthanwar.com/ye-nuns-ravioli-me-away-brixton-electric-26th-september-2014-live-review/
RMA, Guest Mix for Tiny Mix Tapes, Sept 2014
http://www.tinymixtapes.com/chocolate-grinder/mix-guest-mix-ravioli-me-away-the-inevitable-mix?utm_source=dlvr.it&utm_medium=twitter
Norman Records, Inevitable Album, Review, 2014
https://www.normanrecords.com/records/149962-ravioli-me-away-the-inevitable-album-
Garageland, Wysing Review, September 2014
http://garagelandmagazine.blogspot.co.uk/2014/09/space-time-future-at-wysing-arts-centre.html#more
Quietus, Wysing 2014
http://thequietus.com/articles/16151-wysing-festival-review
This Is Tomorrow, Wysing 2014
http://thisistomorrow.info/articles/wysing-arts-centre-annual-festival-space-time-the-future
Slate The Disco, Wysing 2014
http://slatethedisco.com/2014/09/review-wysing-annual-music-festival-space-time-the-future/
Interview, Wysing, 2014,
https://soundcloud.com/pelham-communications/wysing-space-time-festival-2014
Louder Than War, Playlist, July 2014
http://louderthanwar.com/listen-playlist-from-brilliant-post-punk-trio-ravioli-me-away/
Louder Than War, Inevitable album Review, 2014
http://louderthanwar.com/ravioli-me-away-the-inevitable-album-album-review/
Quietus, Riots not diets comp
http://thequietus.com/articles/15882-various-artists-i-know-why-the-caged-girl-sings-review
The Monitors, Album review
http://www.the-monitors.com/2014/08/21/ravioli-away-inevitable-album/
Tiny Mix Tapes, review, July 2014
http://www.tinymixtapes.com/chocolate-grinder/watch-ravioli-me-away-cat-call